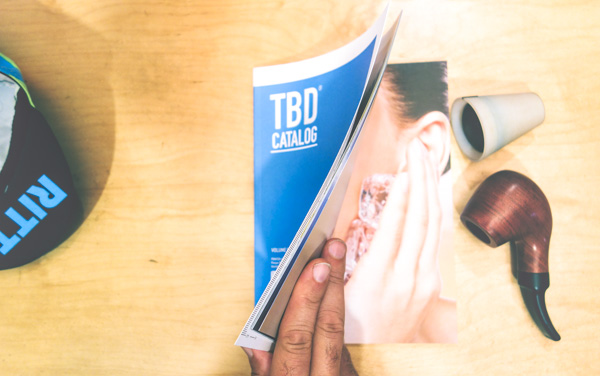 I want to share with you the latest book project from the Near Future Laboratory. It's called TBD Catalog — the Design Fiction product catalog for the normal ordinary everyday near future.
You can get your own copy of TBD Catalog here in our own shop. We're also a publisher now, in the modern sense.
TBD Catalog contains 166 products, 62 classifieds and advertisements to tell little stories about the world we are likely to inhabit if the exuberant venture capitalist handlers and computer programming day laborers of Silicon Valley have their way.
It's a future quite different from the perfect, seamless, integrated, one-touch, Cloud-based advertising fakery used to make your pupils dilate with "wantfulness" — a want for cute connected family robots, software and plastic dongles 'made with love' and self-driving cars with impish earnest eager bumper faces and $9 drip coffee made with algorithmic precision and ordered ahead from an App.
The future represented in TBD Catalog starts with Silicon Valley's breathless visions — and plops it down on the counter of your corner bodega. This is the future that comes in party colors. It's the 3/$1.00 and buy one get one free future. Got your iPhone stolen? In the TBD future, if you've got 'Find My Phone' enabled, just use your Call For Backup App — we'll send some licensed and disciplined toughs fresh back from Spec-Ops to knock on doors, fold their arms and growl imposingly if necessary. It's the Uber of semi-private personal security.
---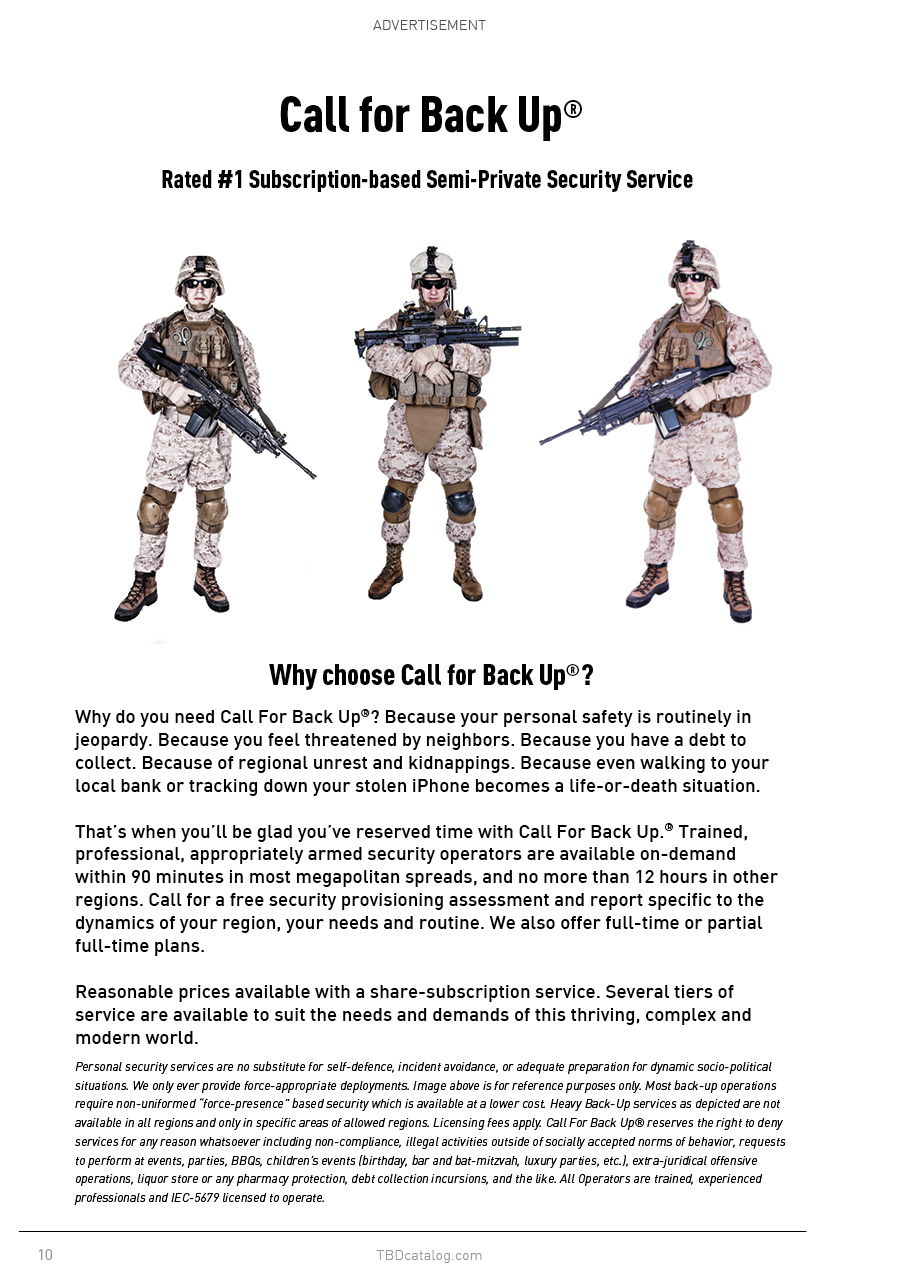 ---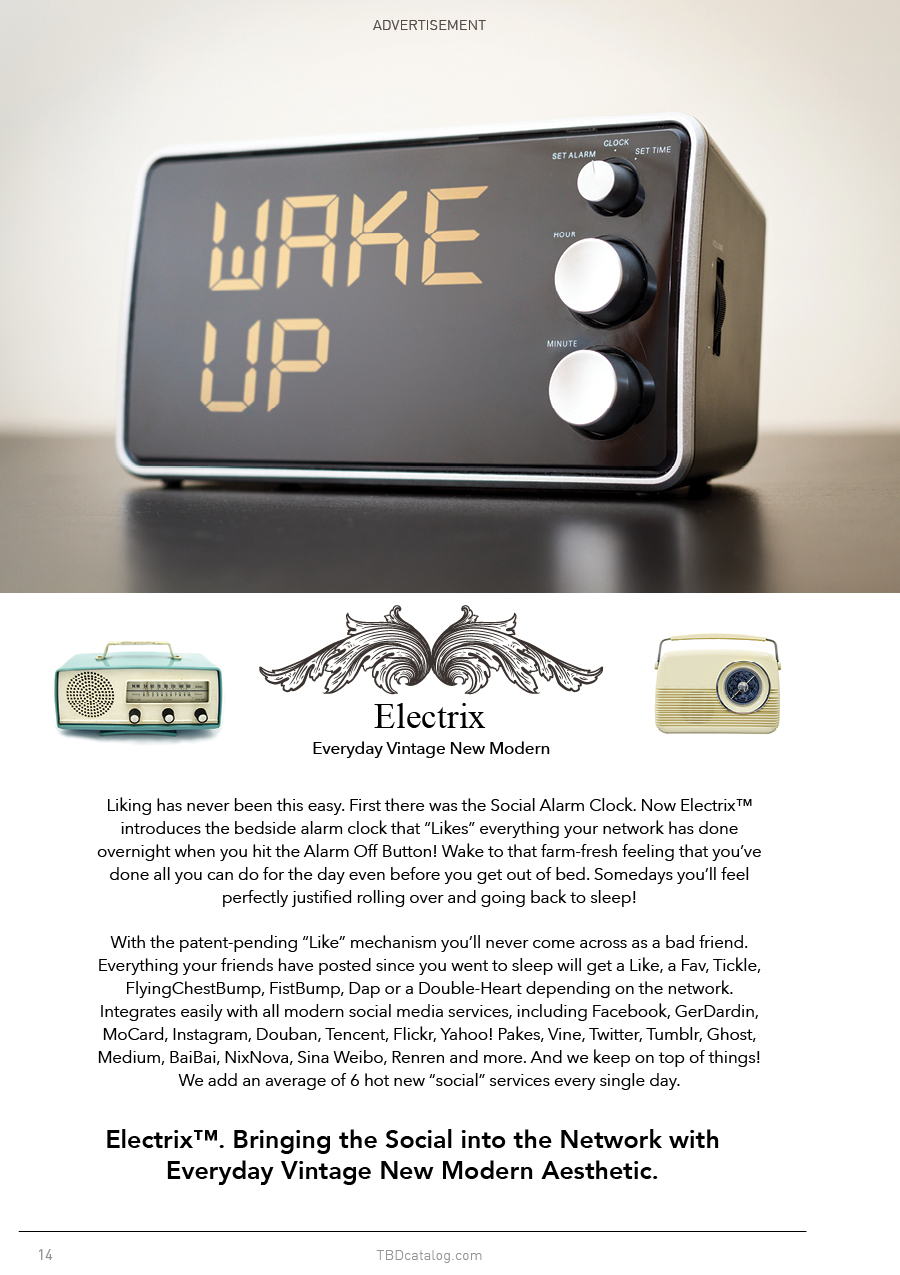 ---
With TBD Catalog our technique for employing Design Fiction was to follow today's major "tech" trends and see where their hyperbole might likely wind up in some likely normal ordinary everyday near future — 3D Printers; Internet of Things; the Algorithmic Life; The Cloud; Machine Intelligence; New Funding Models; Mass Customization; Etcetera.
The TBD Catalog future is the near future ordinary. The constant low power and exploding battery future. The bad firmware bricked $800 device future. The lousy customer service phone menu UX and busted algorithms that send a hundred emails to the same customer and shift-reload doesn't clear the error future. The bad monopoly network service conglomerate run like an accounting firm future.
That world. The one when 'now' becomes 'then' — after all the glitzy wearables/internet-of-things/self-driving car Kickstarter advertising TechCrunch blogger promises dull to their likely normal.
We did TBD Catalog because no one else has done so much to tell a story about the likely future beyond excruciating, mind-numbing white papers, link-bait blog posts and breathless "insights" from strategy agency reports that read as though they're in league with the pundits who all basically work for the startups anyway. We wanted a perspective that was engaging, entertaining and probable while also insightful, generative and provocative.
Take a look around amongst the strata of futurists, insights reports, strategy assessments, TED Talks and the like. There is little to go on to ruminate about these trends beyond the vague "imagine a world.." fantasy scenarios and dreamy video pitches with earnest mandolin soundtracks. There are scant stories about a world when these trend-things are fully-vested within our lives in a way that doesn't seem like the boom-cycle perfect world advertisement where we 3D print fresh licensed Opiline knife sets. The stories we get are either perfect utopia futures or the robot-zombie apocalyptic busted future with fascist jetpack cops chasing down malcontents.
TBD Catalog cuts through the middle to tell stories from a world where Nobel Prize winning technology is sitting on the counter of your corner liquor store in 23 different colors, all with a keychain and instructions on how to entertain your cat. This "ordinary" story is the one we're working towards. These are the stories that are in short supply. Stories about our world when the extraordinary idea makes its inevitable journey to become the ordinary commodity thing that occasionally needs repair or a software patch for a security flaw.
TBD Catalog creates these sorts of stories by hinting at the implications of today's 'disruptions' — by representing the kinds of products and services we might imagine in the near future and implying little corners of that near future world and the social lives around it. In TBD Catalog each product, service, classified advertisement and customer review is a bit of Design Fiction — a mix of trending topic plus designed object plus a small evocative story-description. Each Design Fiction is a little story about life in our likely near future world.
What are some of the stories in TBD Catalog?
TBD Catalog tells a story about a world in which every household has as many 3D printers as they now have electric toothbrushes, and a lease-licensed 3D printer material waste disposal unit.
---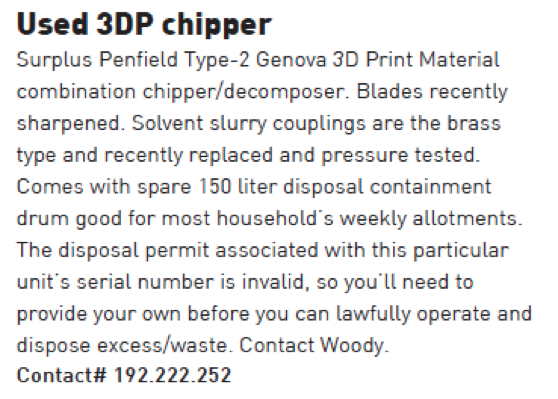 ---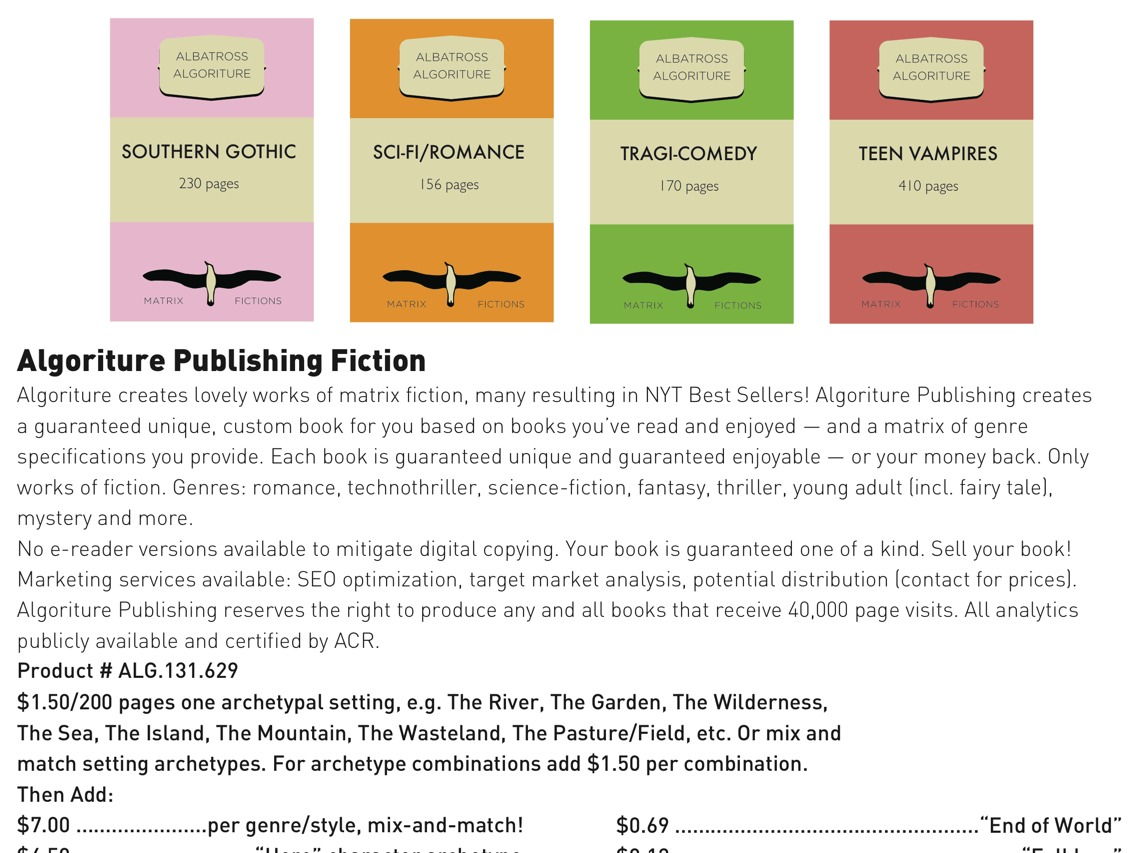 ---
TBD Catalog reveals a world with bland "Algoriture" algorithmic literature optimized for trends, tastes and expectations and written by Amazon's data analytic-fed intelligent bots rather than normal, human authors.
What about a world in which algorithms are so trusted, we allow them to find a playmate for our children, or the perfect "soul mate" for ourselves when we turn 18.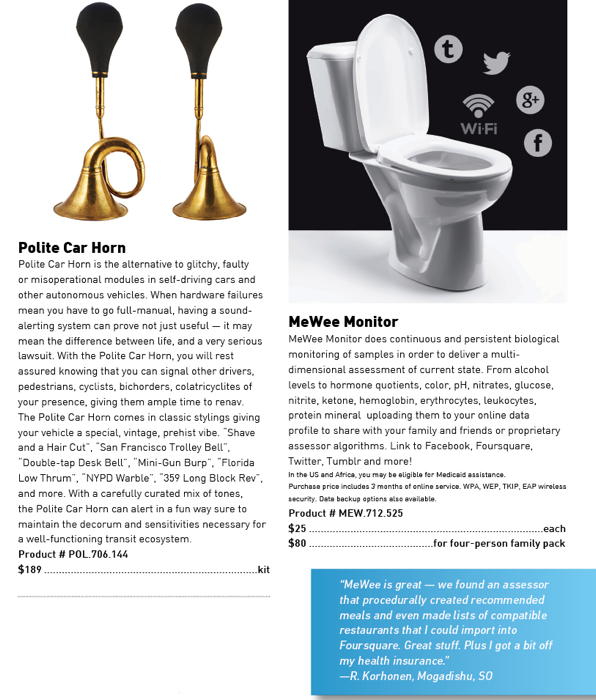 ---
MeWee Monitor hints at what an Internet of Things world might look like if everything — the glass you drink with, the bar stool you sit on, and the bathroom door you lock behind you and the chamber pot you sit upon  — is connected to everything else, and lets the world know what it's doing.
Why did we do a product catalog from a likely future? The Near Future Laboratory is of the opinion that whatever "comes next" should be prototyped not just in hardware and software (which we do, and enjoy) but through compelling, engaging, tangible moments that play out near future scenarios. Not only the spot-on-perfect advertiser-scripted scenarios, but the more likely and realistic moments as well. This sort of prototyping has imminent value as a means of shaping an idea, reflecting on contingencies, making things better and feel more full-vested in the world.
Design Fiction is a form of prototyping an idea. It's a way of  reflection that can take an idea, trend or concept and intimate it in a more material form that can generate conversations that then reshape the idea into something better. Design Fictions have a remarkable ability to make that materialized concept come to life in a much more embodied way than specifications, one-pager or items in a PowerPoint bullet list. TBD Catalog's Design Fictions take the promise of extraordinary and weird Silicon Valley aspirations and turn them into the normal and ordinary props that come to life as part of our everyday lives.
Design Fictions have exceptional value from a pragmatic perspective. They are more than entertainment. Design Fiction can operate as a viable approach to design itself — a form of exercising hunches without committing to full-blown execution. Design Fiction can find the tangential implications and alternative possibilities of your instincts — and then show a path forward towards sketching, testing and materializing your ideas. As a catalog in which your idea might exist in the future. As a fictionalized quick start guide. As an instruction manual or bug report. As a blogger's review or customer service script.
Design Fiction is a creative instrument. It is truly a form of prototyping. It is an approach to design and strategic foresight that is actually generative. Design Fictions provide the basis for viable ideas, even in the idiom of satire. In their second reads, they become more — each of the 166 products has a "..huh" moment. There are dozens and dozens of Kickstarters in here, surely. And a few things in TBD Catalog we here at the Near Future Laboratory have actually prototyped — for real. Even some we're pursuing after having our own "..huh..that could work.." revelation.
Let me be clear — we here are not opposed to the "next new thing."  We are eager to entertain. But also — we focus on creating 'next new things' everyday. TBD Catalog is meant to remind us that every cool trend, every 'wow' gadget, and even some Nobel Prize-winning technologies become entertainment devices for our house cats or a faster way to stream crappy online ads. We need those kinds of likely near future representations — as alternative as they are to the glowing reports in your favorite trends blog — to focus ourselves on the challenges this world faces in light of rapidly changing behaviors, expectations, desires, rituals and algorithms.
Welcome to your near future normal ordinary everyday.
======
Buy TBD Catalog
Check out the work kit we used to create the products
Read more about Design Fiction