TBD Catalog. It started as a workshop-based collaboration with 19 humans and a few algorithms who willingly allowed me to shepherd them through the thoughts in my head and help show what the world may be like in some odd but likely near future — represented as a product catalog rather than some old-fashioned output like a white paper or blog post.
TBD Catalog tells a story about the world we are likely to inhabit if the current moment's exuberance for the things it gets exuberant about continues at its boom-bust cycle pace.
What exuberance am I talking about?
This exuberance for "disruption", handcrafted algorithms, security, 3D printers, The Cloud, luxury-bespoke bicycle seats, bigger and bigger self-serving Big Data "data points", stacks and stacks of weird service APIs, consumer-focused technical gadgets, an Internet of Things where everything is connected to everything (whatever that means), food printers, the end of privacy, algorithmic publishers beating up normal publishers, artisanal hand crafted lickity-split buzzy drone delivery, hype-curves with spectacular riches at the end, connected toilets, saws & axes, and etcetera.
This is an exuberance that we might generally localize to Silicon Valley California. It can now be said that this exuberance has spread to other geographic centers of unbridled enthusiasm, what with the San Francisco/Silicon Valley sprawl bursting at the seams with its $5000 a month studio "apartments" and its general lack of space for people to live and work and get a goddamn burrito that actually makes sense.
Maybe that's not fair.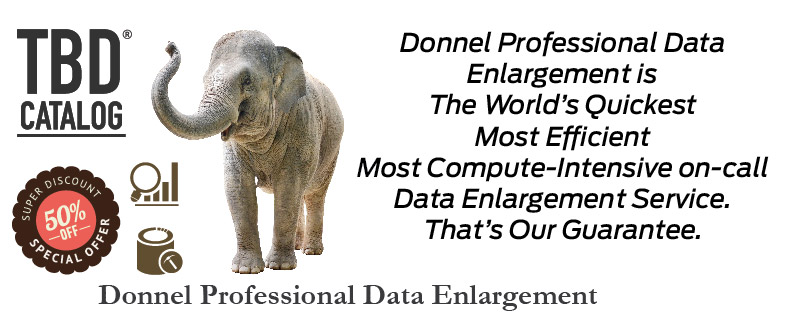 Hold on — yes it is.
Although, okay — to appear to be fair I'll say that Silicon Valley isn't all that bad, even if it is sometimes quite severely selfish and myopically misguided.
A guy in his living room with a six pack of beer can have some bad ideas about what to do in the afternoon — shoot tin cans off the back fence, surveil his neighbor with a drone, maybe do dirt bike donuts on his neighbors front yard after those beers are gone.
A guy in his living room with $6 billion can have a normatively bad idea about what to do, and do real damage to normal, ordinary everyday humans.
Wait. Where was I?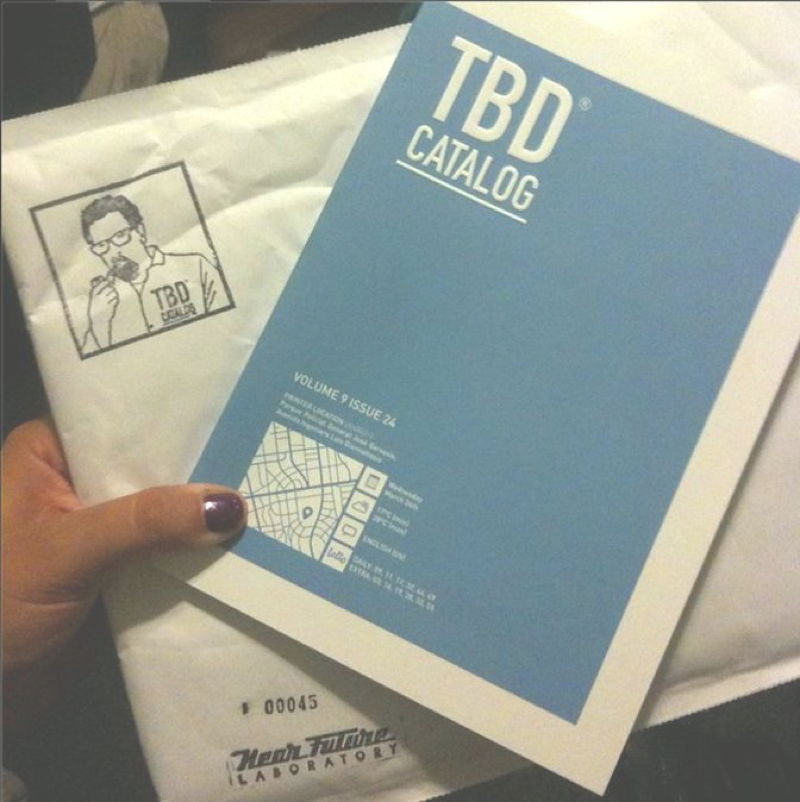 Oh right. TBD Catalog. A catalog of ideas, extrapolations, insights, points of view, opinions, statistically likely conclusions, satire (which is only satire until it comes to pass, like an App that says "Yo!" which would've been the kernel of a good joke until someone thought it would make a better App than a joke and now it's no longer funny) — all represented as stuff that goes in your home. It's also the weird crap you find at the checkout counter of your local corner convenience store. And your friendly, neighborhood Data Plumber who advertises on a badly Xeroxed flyer crumpled and shoved through your mail slot or slipped under the windshield wipers of your used self-driving Hyundai Siestafore..the one with the hacked Android DriveOS so you can take it off-road on the weekends without the disturbingly angelic Johannson bot voice you lease for $3.99/month warning you every 15 seconds "Parker..you've strayed off course. Please return to Highway 101."
TBD Catalog is a container of ideas — some which may come to pass, some which probably already exist, some which definitely already exist in some form and some other things that are just plain brilliant ideas that no one in their right mind would dedicate a single dollar bill to create. Cause #ROI.
What is this TBD Catalog then? What does it do that these pre-modern techniques for creative strategizing do not do?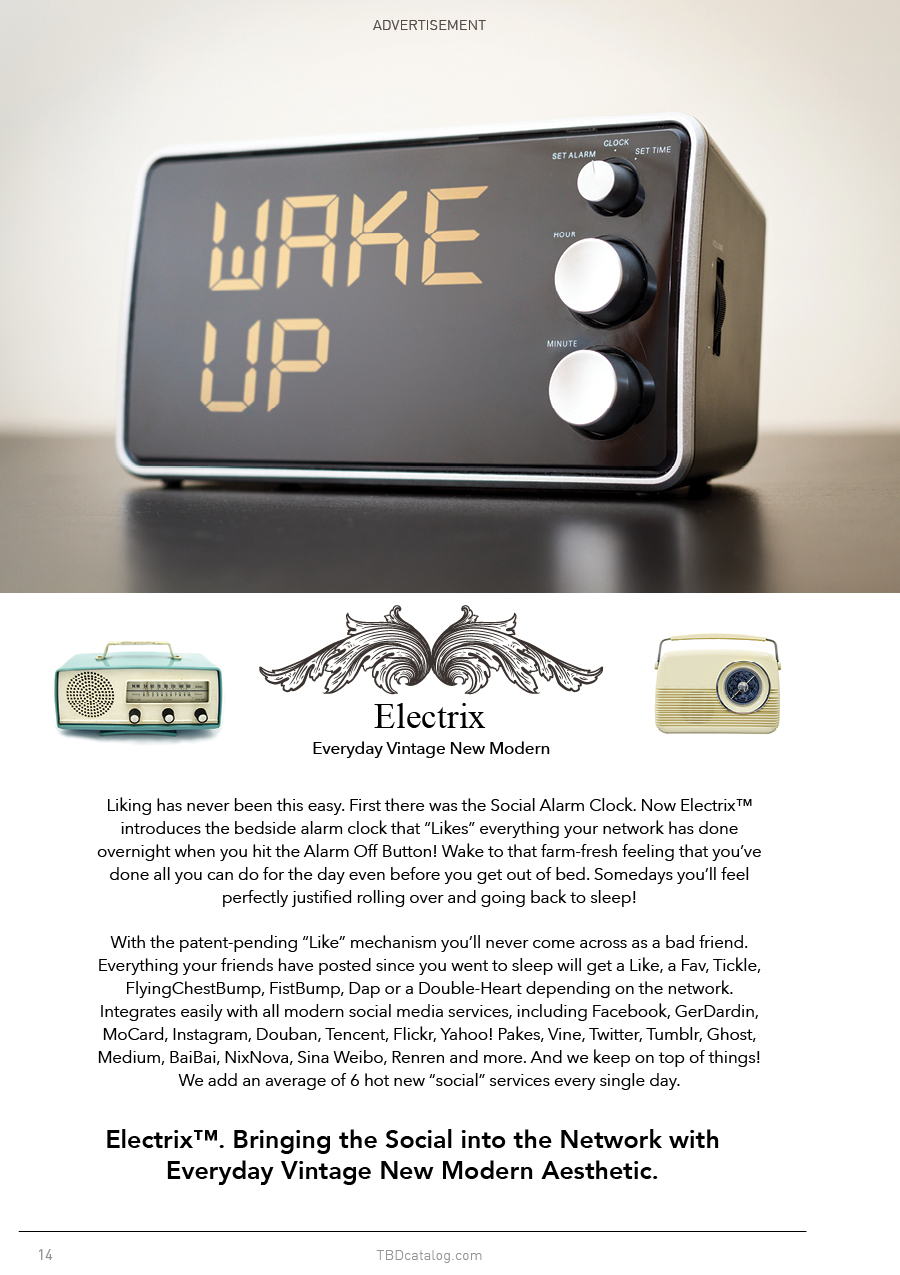 It's a collection of micro-fictions, little stories done up to take the form of a product catalog. They are symptoms of a future world. Each product an implication — all collectively implying the lived experience of someone's likely normal ordinary everyday near future habitat. These are evocative little Macguffin-like clues at what you know may likely come to pass.
Producing a hint of a whiff of the near future is an alternative narrative strategy to the grand vision the old-fashioned futurists were likely to offer. And, ultimately — it's this alternative narrative element that the PowerPoint deck and the ThinkTank white paper cannot offer. Those simply kill the fun in good, creative design work. They deaden the creative nervous system ruining the possibility of doing good design — of feeling inspired and invigorated. No one was ever invigorated by your typical PowerPoint or 87 page White Paper, were they?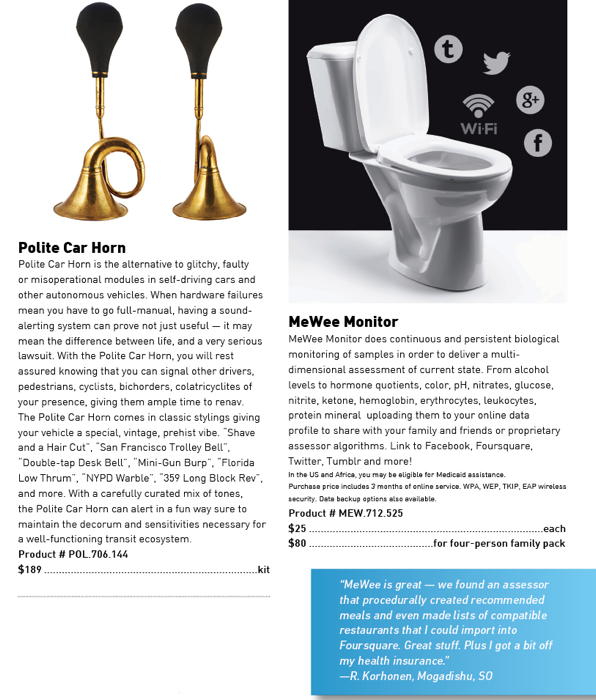 What are some of these Macguffins? TBD Catalog includes everything. Food to toilets. End-to-end solution, as they say. Life, love, loss, loungewear. From the future of ice cubes to the disposal of 3D printer waste material to "revolutionary" wound-spring PowerPaks.
In TBD Catalog you'll find a whole thriving business ecosystem of data mangling and an underground of techniques and instruments to allow one to commit "servicide" — that's social network suicide. There's everything from shoddy, rusted out old surplus data manglers to the valet-clad, braided epaulet luxury vacation packages where you and your loved ones can hide or expunge all your data trail with the exclusivity and privacy you've come to expect from your privileged life.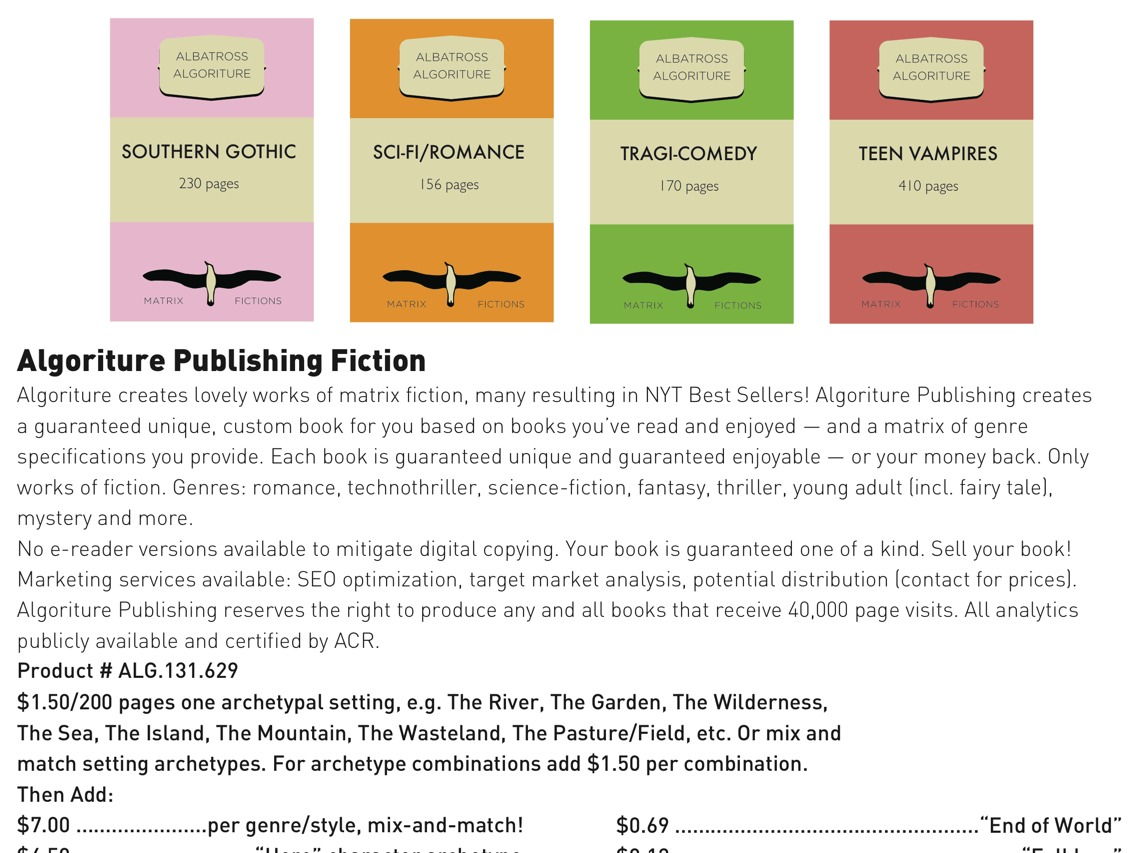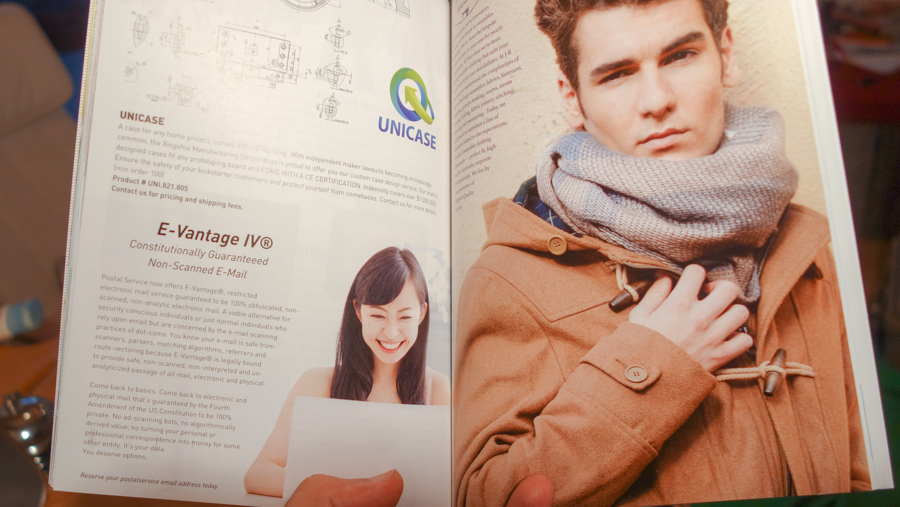 What sort of world does TBD Catalog come from? What is that near future it is telling us we may likely occupy?
It's a world where Google and Facebook (or whatever they become) use data analytics to find your child's perfect algorithmically matched playmate — and their probable soul mate.
It's an "Internet of Things" world where everything, including the glass you drink with, the bar stool you sit on, and the bathroom door you lock behind you, is connected to everything else.
It's a world where bland "Algoriture" algorithmic literature are written by Amazon's data analytic-fed intelligent bots rather than normal, human authors.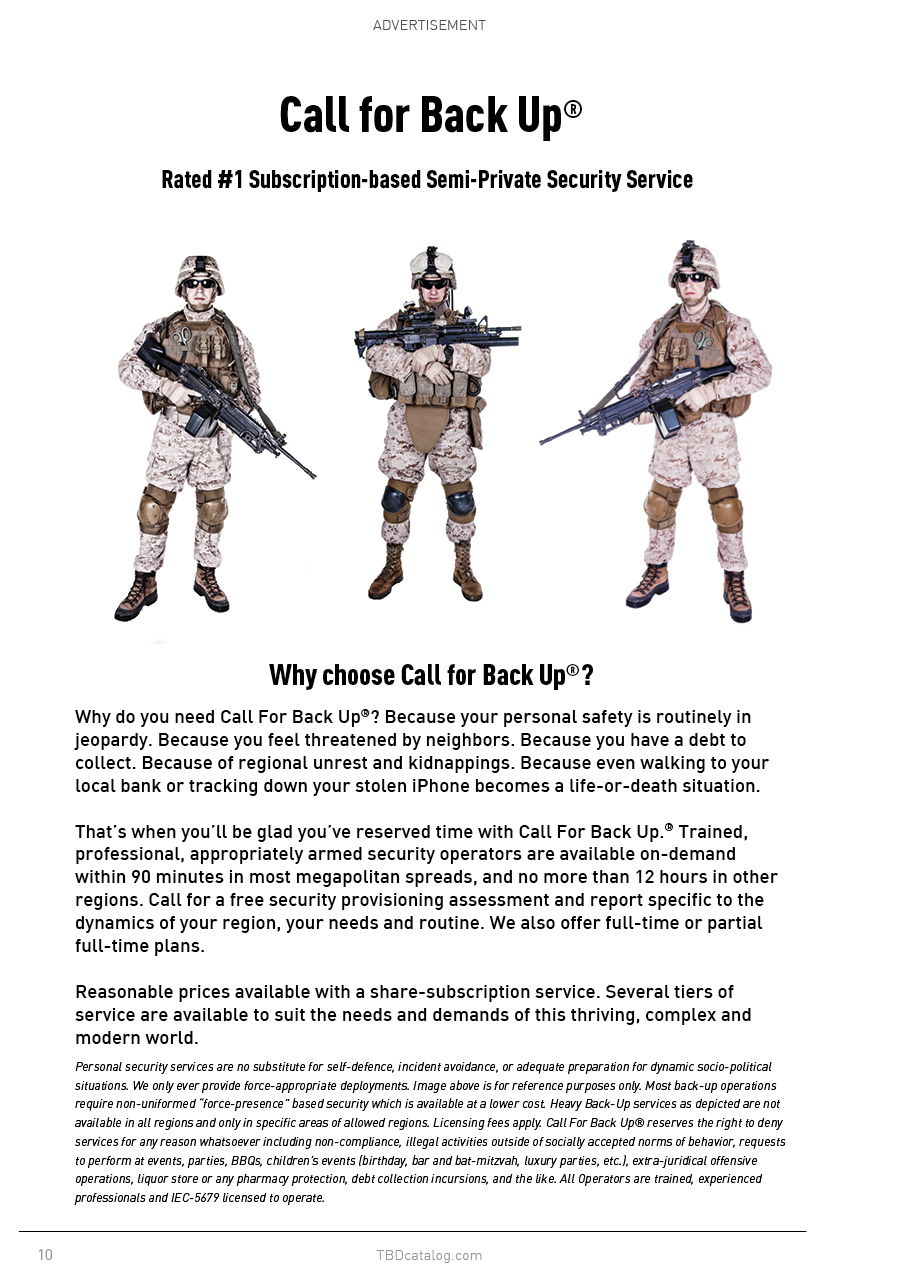 TBD Catalog intimates a world in which the well-heeled summon — as they do Uber cars today — on-demand force-presence security operators to help them recover their lost or stolen iPhone or shepherd them around Burning Man or Coachella.
In the near future of TBD Catalog luxury ice cubes are available for an extra fee in a drought-burdened world, 3D printers require child-safe locks to prevent printing choking hazards, modern plumbers plumb the erratic, clogged data drains of your analytics-generating connected home, and the number one film is 48% crowd funded and 64% algorithm written and the director is a bit of software written by some programmer in Sierra Leone.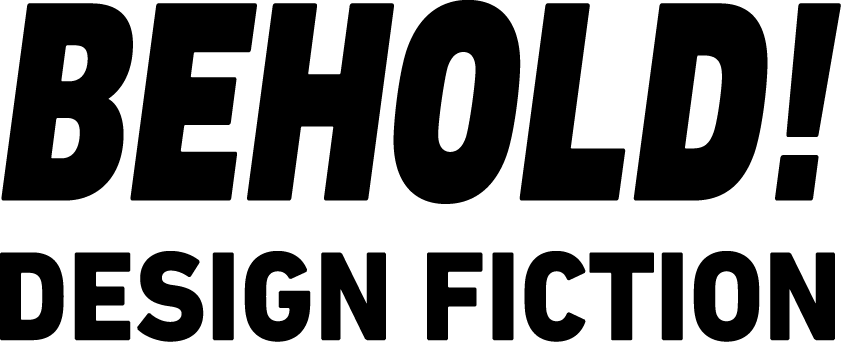 That's TBD Catalog. That's the "what."
In Part 2, I'll talk about Design Fiction — the "how."
For now — check out TBD Catalog and get your copy. Also, read @sarahrich's review: Your Mail-Order Future